November is National Adoption Month and a time to celebrate the unique way families grow via the miracle of adoption.  Each adoption story is unique and woven together in a special way.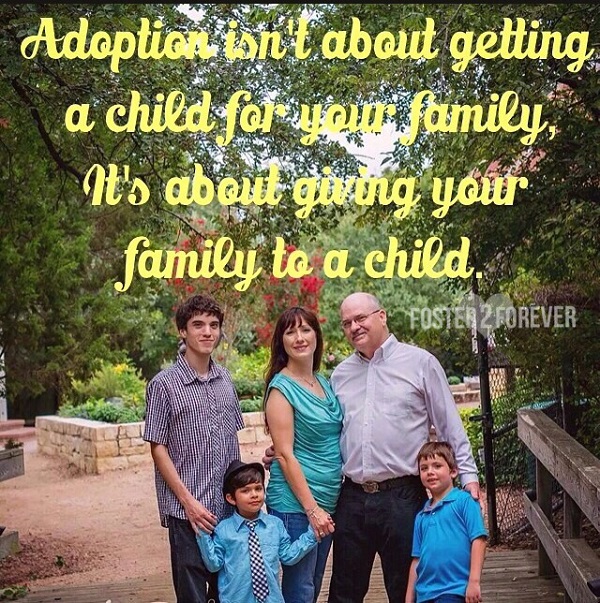 Follow me on Instagram as I share our adoption stories (we have three).
DAY ONE – FACT  Nearly 102,000 children that are currently available for adoption from the foster care system in the United States simply need a parent!  Not a perfect parent, but a parent perfect for them! More than 30 percent (31,000) of these foster kids are between the ages of 11 and 17.
DAY 2 – INTRODUCTIONS DAY 3 – THOUGHTS BEFORE ADOPTION You can read more of my infertility struggle.
DAY 4 – THOUGHTS AFTER ADOPTION
DAY 5 – OUTSIDE PERSPECTIVES The perspective of others can sometimes be insensitive and other times downright hurtful. My family just didn't understand the importance of our son's adoption.  I was elated on our adoption day but still felt intense grief due to my mother's rejection.
DAY 6 – HOW WE MET We have 3 sons each through the miracle of adoption. Our oldest son was adopted via a private adoption, yet the youngest two sons were adopted via foster care. You can download the full story of our youngest son's adoption.
DAY 7 – OTHER HOMES Our middle son, JD, was placed in another foster home before he joined our family.
DAY 8 – WHAT MAKES ME SMILE – WORLD ADOPTION DAY
DAY 10 CULTIVATING BIRTHFAMILY CULTURE  We don't celebrate our son's Mexican culture to the same extent as our American culture.