I had been suffering with a cold for over a week, fortunately not the flu. I was waking up with a stuffy nose, but this January morning was different. I woke suddenly that morning with excruciating pain in my left ear.  I had woken up with a sudden ear infection!
What's this about? I hadn't had an ear infection since I was a young child! I tried lifting my head but was overcome by dizziness, then I realized I couldn't hear.
During my doctor visit, I was concerned about my hearing loss, but he assured me that antibiotics would clear up the infection. He said I would be better in a few days. However, after a few days of antibiotics, the pain had subsided, but I still couldn't hear out of my left ear.
I called the doctor again; my stomach in knots. The doctor assured me again to not be alarmed. He even stated that my hearing may not return to normal for a month! I just had to have faith that the doctor was right.
So I began adjusting to life (and parenting) with a hearing impairment, and what I realized shocked me about my parenting style.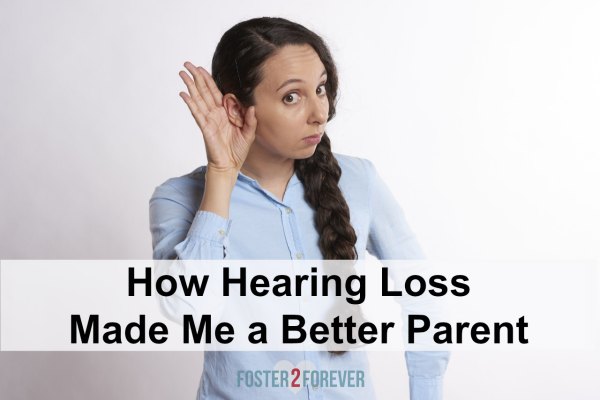 5 WAYS HEARING LOSS HAS MADE ME A BETTER PARENT:
1. NOT TALKING ACROSS ROOMS
I never realized how often our family talks to each other from across the room. By losing my hearing, I suddenly couldn't hear what my family was saying to me. I realized that I had also been talking from a distance — Many times, it was me wanting my children to do something OR stop doing something. Then, when they didn't comply, I would get irritated at them for "not listening to me." How funny is that? Now I was the one not listening because I couldn't hear. Do you find yourself talking across a room at your children?
2. GETTING CLOSE TO TALK TO EACH OTHER
This sudden hearing loss required that I be close to hear what my children were saying. Getting close didn't just mean proximity though. Getting close also meant that I had to put aside what I was doing in order to hear my child. A parent's one-on-one full attention to a child strengthens the parent-child connection that children from hard places desperately need.
3. LOOKING AT MY CHILDREN WHEN THEY SPEAK
This hearing loss was particularly hard for me as I grew up with a father that had a severe hearing loss. Would history be repeating itself? Wouldn't that be ironic? Growing up, my dad was always asking his children to look at him when we spoke. My dad needed that face-to-face contact so he could read our lips. When I lost my hearing, I discovered how valuable looking into my child's face was – both in understanding what my children were saying, and letting them know that I was completely tuned into them. Many times, children from hard places haven't had an adult tune into them and meet their needs.
4. CREATING EYE CONTACT IN CONVERSATIONS
As the famous quote says: "Eyes are the windows of the soul." Eye contact helps with attachment and your child's ability to connect with people. That means getting down to eye level with your children so you can make that eye contact and truly listen to their needs. Eye contact shows your children that you are tuned into them.
5. STAYING CALM DURING A TANTRUM
Because I couldn't hear, tantrums didn't bother me as much. I was able to literally "tune them out" making it easier for me to stay calm. As a child throws a tantrum, not engaging in the tantrum helps parents stay calmer. A parent must not get caught up in a child's dysregulation to be effective in bringing a child back down to calmness.
Over the last two months, my hearing has improved, but it still hasn't been fully restored. However, having this hearing loss has taught me how to connect better with my children to avoid the confusion and frustration that can come with not being heard.