We love Halloween and will be celebrating this year with the Mouse himself on a Disney Cruise out of Galveston, Texas!!!
Here is an easy Do-It-Yourself (DIY) Homemade Mickey Mouse Halloween Costume that I put together for Stinkpot a few years ago. Our foster daughter, Blondie, was to be his Minnie, but she moved a few days before and so…
Here are the items you will need:
Black Turtleneck

Red Shorts

Black Stocking Tights

Yellow Crocs

White Gloves

Mouse Ears, of course!

Other Miscellaneous Supplies: Yellow Felt & Glue Dots to add yellow felt "buttons" to Mickey's red shorts.
Mouse Makeup: I found that Black Cream Eyeliner with a brush is much easier than using a pencil eyeliner! Color in the nose! Smile and outline the cheeks, then add a line from the sides of mouth to cheek lines. Viola! A mouse!
Easy-peasy, Mouseketeers!
DIY Homemade Minnie Mouse Halloween Costume
I became my Stinkpot's Minnie Mouse date on Halloween…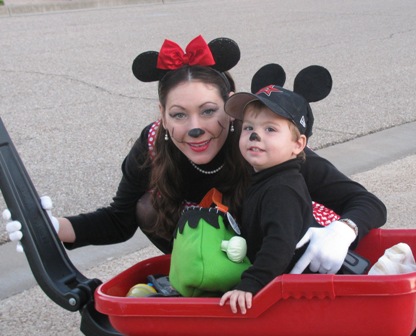 Here I am with Blondie before she left…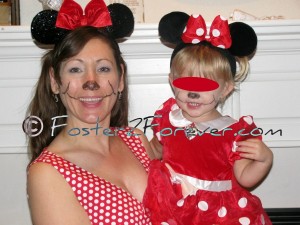 For Minnie Mouse costume you will need the items listed above: Black Stocking Tights, Yellow Crocs, White Gloves, AND..
Red Polka Dot Dress

Minnie Mouse Ears
Easy-peasy, Mouseketeers!
Do you have plans for Halloween? Do your kids already know how they will dress? Or do they change their minds a million times before?