Michelle's Story of Fostering a Special Needs Child
At my first fostering information session, I was told all foster children have special needs. If you think about it, it makes sense when you consider that a child does not go into foster care if they are living in a nurturing environment with caring parents or guardians.
Down the road and a few fostering placements later, I would learn what special needs really meant. Ryan came into our home at day 2 of his life. He was a drug-exposed newborn experiencing crystal meth withdrawal. My husband and I were not familiar with drug-exposed infants nor were we looking to adopt.
As mother of two and a certified childhood developmental specialist, I have worked with children with special needs, rare medical conditions, etc.  Ryan, on the other hand, was this fragile newborn in our home – struggling just to wake up.  As time passed and Ryan became more aware, red flags started to appear.
Soon after, visits started with medical specialists, including a pediatric cardiologist, pediatric eye doctor, pediatric neurologist and endless appointments with his pediatrician.  It was difficult to manage all of these appointments while maintaining normal schedules for my other children and a relationship with my husband.
Ryan is a now an 18-month old thriving toddler with epilepsy, cerebral palsy, and eye problems.
This past year and a half has not been easy with all of his medical appointments, social worker appointments, dealing with seizures, therapies, etc. but somehow we survived – some days by a miracle, but we did, in fact, make it through.
Our biggest frustration through all this has been social workers who did not understand the issues of our special needs child, or trying to get a court order for medical care, or trying to get alternative care for our son.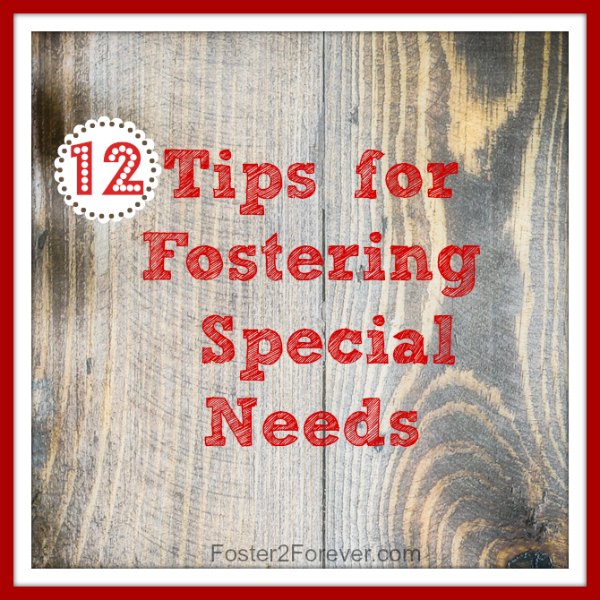 Here are some tips that helped my husband and I through this journey:
12 Tips for Fostering a Special Needs Child
Document and keep copies of everything!
Find your voice as your child's foster parent and advocate for your child,
Establish rapport with social workers, doctors, therapists and your child's attorney,
If your child is receiving therapy, ask for the goals and the steps for achieving them,
Educate social workers if they are unsure about your child's condition and what it takes to care for your child dealing with these issues,
Find respite care – find out what is available to you through the state and county foster agency or with friends or family that can come help an hour or two a week,
Build your support network,
Consider alternative approaches that might help your child – do not assume the county will say no. (For example, we strongly believed that Ryan needed chiropractic care which is usually not considered for foster children in California.  By getting Ryan's social worker and lawyer involved and battling for months, we were finally granted an order from the judge to allow this care. The chiropractor was amazed that we had accomplished this.),
Through all the ups and down, enjoy your child in the present. The past in the past, the future is unknown, and all we have is the present.
Get down on your child's level, play with them, pay attention to them uninterrupted whether it's 5 minutes a day or more.
Communicate with your partner, stay in touch, communicate your family's needs, your needs, and find out their needs. Help each other find self-care that works for you,
Research the adoption subsidy for special needs children in your state. A great starting place is the North American Council on Adoptable Children (NACAC.org). You can search by state and they typically have contact information for the state subsidy person information and the NACAC Subsidy representative.
Michelle Ludwig is a licensed foster parent, patiently waiting for the adoption of Ryan to be finalized. She holds a master's degree in Child Life in Family Centered Care from Wheelock College in Boston, MA.