It's not easy coming up with Valentine box ideas for boys.  If your boys are like mine, they just don't get into the lovey-dovey hugs & kisses idea of Valentine's Day.  My boys just want the CANDY!!! So getting my boys excited about making a Valentine's Day box (without hearts & doilies) takes some searching and a bit of creativity.
Last year, I created an easy monster Valentine box for my boy (shown below) that he was proud to bring to school.
For this year, I searched the Internet and Pinterest to create this collection of the Valentine box ideas for boys.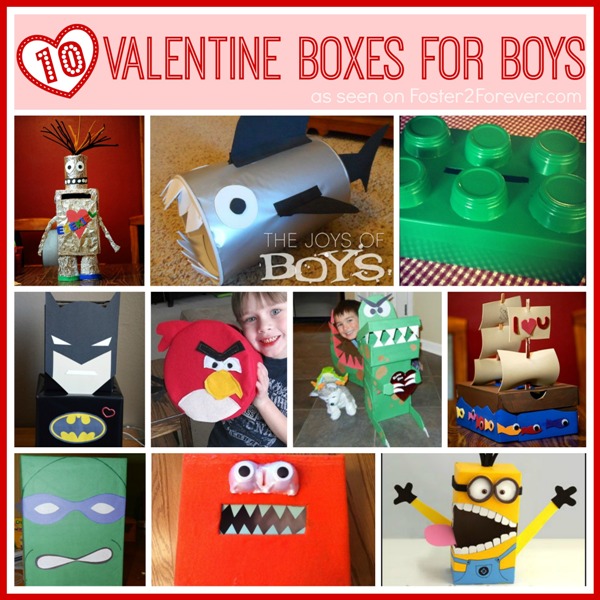 My boys each picked one of these ideas for a Valentine's Day box.
Follow me on Instagram to find out which Valentine box I will be making for my boys this year.
10 Valentine Box Ideas for Boys
Robot Valentine Box – My son recently made a robot for a school project from an old cereal box, so a robot was on our list for possible Valentine box ideas.   Simply cover your box in foil and let your boy decorate!
Shark Valentine Box – This Valentine box idea creates a shark from an old baby formula can, gray wrapping paper, and craft foam.
Lego Valentine Box – This easy craft uses an old shoe box, plastic Solo cups, and spray paint to create an easy Valentine box for a boy that loves Legos.
Batman Valentine Box – This crafter created this Valentine box of the Caped Cruisader for her boy. She also has a cute Valentine bookmark printable available for download.
Angry Birds Valentine Box – This easy Valentine box used felt & a hat box. This boy actually sewed it together! But personally, I'm a hot glue kind of mom.
Dinosaur Valentine Box – Now this Valentine box is a labor of love constructed with a shoebox, cardboard, tape, construction paper, acrylic paint, markers and stickers.
Pirate Ship Valentine Box – This Valentine box was created into a pirate ship by painting a shoebox brown and adding sails, ocean waves, and fish using craft foam.
Ninja Turtles Valentine Box – This easy craft simply used construction paper, crayons and markers to create an awesomely quick Valentine box for boys.
Despicable Me Minions Valentine Box – After watching Despicable Me recently, my boys love this Valentine box using an old tissue box, paint, and craft foam.
Easy Monster Valentine Box for Boys
I created this simple monster Valentine box for my boy last year.
The supplies included an old shoebox, orange felt, construction paper (for the teeth), wiggly eyes, fun fur (for the eyebrows), old egg carton (for the eyeballs, not shown), scissors, and my ever-faithful hot glue gun.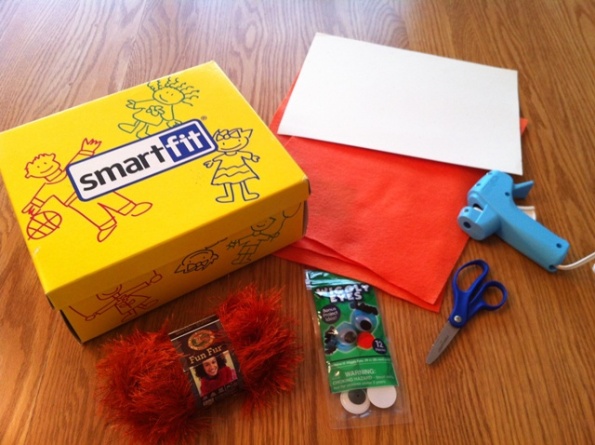 And my boy (the photographer) took this photo while I was creating his Valentine box (on a Saturday morning while I was still in pajamas no less). You craft in pajamas too, don't you?
Which of these Valentine ideas for boys are you going to make?