November is National Adoption Awareness Month to raise awareness of the 107,000 foster children available for adoption. I've teamed up with several bloggers that have adopted from foster care (or are in the process) for a blog tour! Throughout the month, I will be featuring a different blog and their unique adoption story.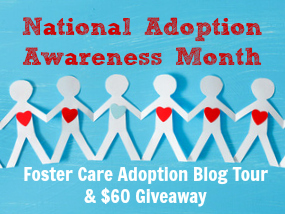 And we are giving away a $60 to Amazon or PayPal!!! Just in time for Christmas! This giveaway ends at midnight on November 30th! So are you ready to meet some fabulous foster parents?
Our Journey to Adoption shares how they began the process to become licensed. "We learned so much, sometimes felt overwhelmed with all we learned.  We heard good things, we heard horror stories, we grew as people."
Young, Single, and Adopting reminisces on the expectations that changed along the journey to become a family.  "Although this journey has blessed me beyond belief and pushed me to limits I never knew existed, the one benefit that I never saw coming is the connections I have made in the adoption community."
Kenneth A. Camp discusses why his decision to adopt had little to do with infertility. "God directed my attention toward the fact that hundreds of children in my community were in foster care. Many of them were available for adoption."
Mama Foster delves into the realities of the tough behaviors that come with the kids from hard places. "There really is not much that is easy about adoption.  For me, the only easy part was the "fall in love with a kid you don't really know" part.  Then, they move in and you have to get over the "idea" of who you thought the child was going to be and really work on falling in love with who the child really is."
La Mama Loca honestly examines the intricacies of her children's open adoption from foster care. "Open Adoptions (OA) in foster care are still new to the scene for many foster care adoptions.  As with any OA, there are many different levels of openness.  This is our story."
I Must Be Trippin' laments on not adopting her foster son on National Adoption Day due to paperwork issues. "I've been a mom for five years, but not one of my children is legally "mine."  I had myself a nice little pity party upon turning the calendar to November, seeing "Adoption Day" circled in red, and knowing that I would have to continue waiting to be a "forever mom" a little bit longer. That's when it hit me like a tons of bricks.  I

am

a "forever mom!"
Good & Hardy discusses the meaning of family. Her son who questions permanent love told her: "You will always love us like that because you will always be our mom."  It wasn't a question.
Foster Ducklings write about the sequence of far-too-many-to-be-coincidence events that aligned and blessed them with two happy, boisterous, affectionate, spirited, funny, exasperating beautiful boys.
Moms Probably Write opens up about her experience of being a second mom:  "I never had that "the moment they placed you my arms, you snuggled straight into my heart" moment.  Being her second mom has been a difficult adjustment."
Fostering Joy writes honestly about her concerns and frustrations of adopting her foster care placements.  "All I know right now is that as much hassle and frustration that these kids bring to my house, I love them.  Sometimes I don't like them very much, but even in the hard moments, my heart wants to show them the Jesus love that they have never seen before."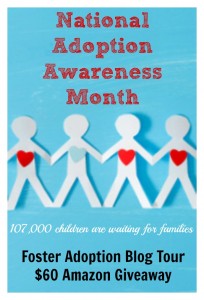 If you also blog about your adventures in foster parenting, leave your link in the comments!