We are in an age when the world is trying to take Christ out of Christmas.
Businesses are electing to replace "Merry Christmas" with "Happy Holidays," and even so much as to rename Christmas trees as "holiday trees."
The American Family Association (AFA) is a nonprofit 501(c3) on the frontlines of the war on morality in America.  The mission of the AFA is to inform, equip, and activate individuals to strengthen the moral foundations of American culture. AFA believes that a culture based on biblical truth best serves the well-being of our nation and our families and in holding accountable companies that sponsor programs attacking traditional family values. AFA also believes in commending those companies that act responsibly regarding programs they support.
AFA reviewed retailers in up to four areas to determine if a company was "Christmas-friendly" in their advertising: print media (newspaper inserts), broadcast media (radio/television), website and/or personal visits to the store. If a company's ad has references to items associated with Christmas (trees, wreaths, lights, etc.), it was considered as an attempt to reach "Christmas" shoppers.
If a company has items associated with Christmas, but did not use the word "Christmas," then the company was considered as censoring "Christmas."
If you believe in keeping Christ in Christmas, you have the opportunity to let your voice be heard when you do your Christmas shopping this year.
The following companies may use "Christmas" sparingly in a single or unique product description, but as a company, does not recognize Christmas.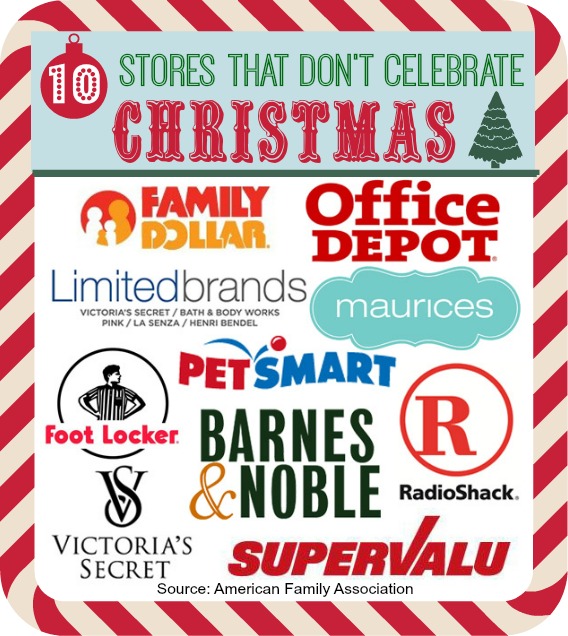 Five years ago, Gap, Inc. adamantly refused to use the term 'Christmas' in any of its seasonal advertising.  However, after an AFA-encouraged boycott last year, Gap has completely turned around its seasonal advertising this year, and will place "Merry Christmas" signs in every store, along with Christmas trees and a special "Christmas-themed event" at all Old Navy stores.
Here is AFA's complete list of national retailers and their recognition of Christmas.
Will you join me in keeping Christ in Christmas by shopping at retailers that celebrate Christmas?