I have been cancer-free for over seven years now; however, I now have a biopsy scheduled for Friday.  How can this be?  The honest truth is that I neglected me. In the craziness of appointments for my children, I failed to make my annual follow-up appointments.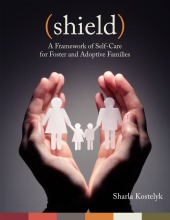 In November, Sharla Kostelyk sent me a copy of her book, Shield: A Framework of Self-Care for Foster and Adoptive Families. Shield is a book that encourages self-care for foster and adoptive parents from the very beginning of parenthood.  While reading, I realized – "I have to make my health a priority in order to properly care for my children."
It's ironic, considering that last August I wrote about this very topic in regard to dealing with Secondary Traumatic Stress otherwise known as Compassion Fatigue.
Foster care and adoptive parents are especially vulnerable due to the additional stresses of caring for traumatized children.  This book offers practical, encouraging advice for those in any part of the journey of foster care or adoption.
The book encourages families to build a support system and prepare even before your first placement.
The first step is education. "Arming yourself with knowledge about attachment, the stages of grief, fostering, adoption, the effects of malnutrition on the developing brain, or various types of special needs such as Fetal Alcohol Spectrum Disorder (FASD) and Sensory Processing Disorder (SPD)."
I wish I would have spent more time reading about attachment before we received our Stinkpot. I should have taken Family Medical Leave the day he arrived.  Throwing him into daycare quickly was not what our neglected 8-month-old baby boy needed.
Finding fostering and adoption support groups and attending before you get placements will help you in being prepared. The bonus is being able to discuss hair care and attachment with other moms.
In this book, Sharla compares life as an adoptive or foster family to a hospital triage situation.
"Your attention goes to whatever is absolutely critical and everything else, including taking care of yourself, falls to the wayside." How true!
Triage is dangerous because you can only react and there is no self-care. When you are feeling overwhelmed that you're not meeting the needs of kids – You need help and self-care!
To avoid depression and burnout, this book lays out 12 Steps to Survive Triage.
Shield encourages on-going self-care and using humor to combat stress and elevate the level of joy in your home.
The final takeaway for me was: "Cherish the gifts that your child possesses instead of focusing on the challenges."
I found this book extremely practical to encourage me to take care of me. You can purchase the Shield e-book for only $2.99 through Amazon or directly through Sharla's secure website.
Fortunately, the biopsy scheduled for Friday is, in fact, a precautionary measure. All my other tests have shown good results. Thanks, Sharla! My story could have been different.
Are you neglecting you?
UPDATE: I am cancer free!!!