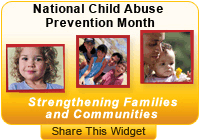 During April, National Child Abuse Prevention month, Foster2Forever will be hosting a link-up on topics in regard to the abused and neglected children that we, as foster parents, bring into our home.
Last week's topic of dealing with the feelings and emotions our foster children had some great tools on how to deal with those explosive behaviors! You must read all of them!
Our featured blogger is Sarah Thacker!  I still have to deal with Stinkpot's outbursts occasionally and will be using the methods discussed in her post to calm him. Thanks Sarah! And thanks to the other bloggers who linked up last week!
This week's topic is Challenges/Trauma/Neglect. This is a very broad topic so we're hoping many of you will join us this week. Go ahead and add a post from the past!
Or you can write a new post!
Foster2Forever will feature one blogger next week!
Next week's topic:
April 25-30 Overcoming the Past (I can't wait to read your posts on success stories!)
Feel free to grab the code and add this blog hop to your website.