As a foster mom, babies can come into your life in a moment's notice.  And just like that, we have a baby in our home! It's hard to believe that it's been three years since we've had an infant in our home and so I had to start from scratch with baby items. (we only thought we were out of the baby business)
Here's a list of essentials for a new mom's purse (along with a "mini" diaper bag).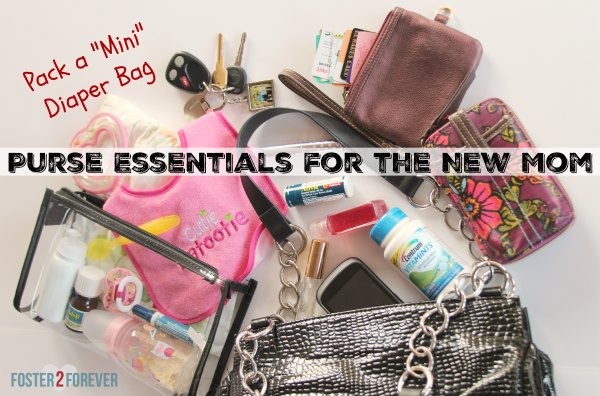 Purse Essentials for the New Mom
In my purse, from top clockwise:
Change purse/tiny makeup bag – Now with so many stores giving perks for using reward cards, I began to amass so many that my wallet was impossible to close. I use this tiny makeup bag/change purse and put all my reward cards, coupons, and gift cards in this. It really frees up space in my wallet.
Phone Wallet – I love my phone wallet!  If I need to run into a store (when baby is in the car with dad), I can just grab my wallet and go without lugging in my entire purse.
Mints/Vitamins – How many times have you been out and then remember that you forgot to take your vitamins?  And since mints are a purse essential too, Pfizer combined the two with Centrum Vitamints that are adult multivitamins with a refreshingly minty taste you can take/enjoy any time of day with or without food or water.  (note to self: keep Centrum Vitamints in the car to trick my adult son into taking vitamins)
Hand sanitizer – Anytime I am out & about touching doorknobs, chairs or anywhere else germs can spread,  I make sure to use hand sanitizer before I touch the baby.
Cell phone – Do I really need to explain? I like that I can stick it in my phone wallet too!
Advil Tablet Vial – Carrying baby in the car seat or even alone can be murder on your back! Compound that with the bending, lifting and twisting of putting the baby and car seat in and out of the car, I was really sore after my son arrived.  You can use Advil tablets for headaches, minor arthritis and other joint pain, muscle aches and pains of the common cold.
Cologne – I always carry a small vial of my favorite cologne in my purse because spit-up happens.
Tinted lip balm – After a restless night with baby, a little color on the lips makes me feel a little less like "Walking Dead" plus I like the added moisture and protection of a lip balm.
Mini-Diaper Bag – A few diaper bag essentials can be a lifesaver to carry in your purse for those quick trips, instead of lugging a huge diaper bag around.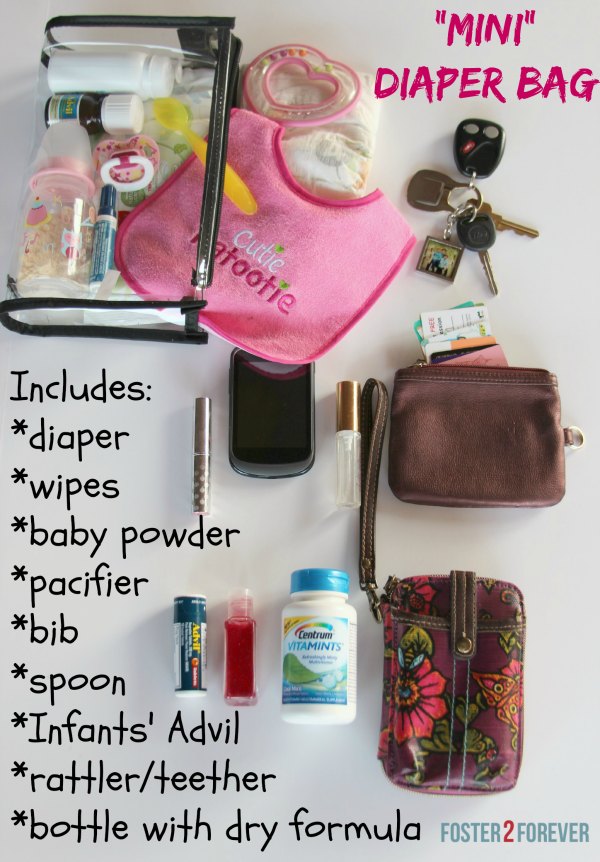 Mini Diaper Bag Essentials List:
Diaper
Diaper wipes
Baby powder.
Pacifier
Rattler/teething ring
Infants' Advil to quickly soothe teething pain and fever
Bottle with measured dry formula (just add water)
It's easy to find the supplies for your mini diaper bag essentials. Infants' Advil can be found in both the Baby section and in Health & Beauty at Walmart.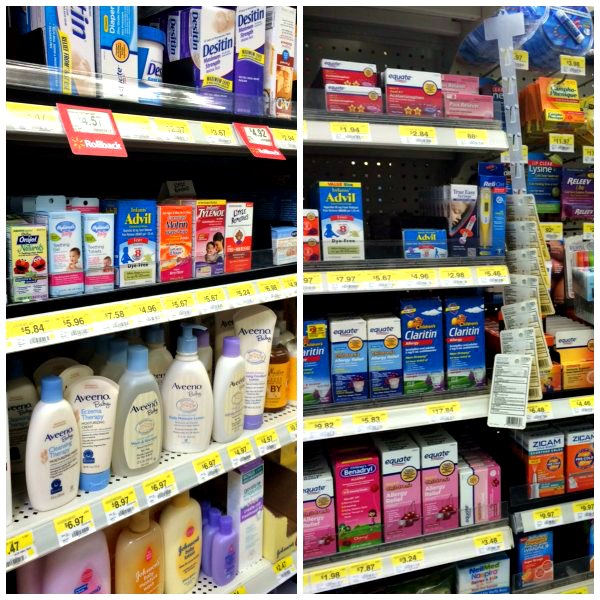 Look in the Health & Beauty section of Walmart for travel size items for your purse or mini diaper bag, including baby powder, baby wipes, hand sanitizer, Advil Tablet Vial, etc.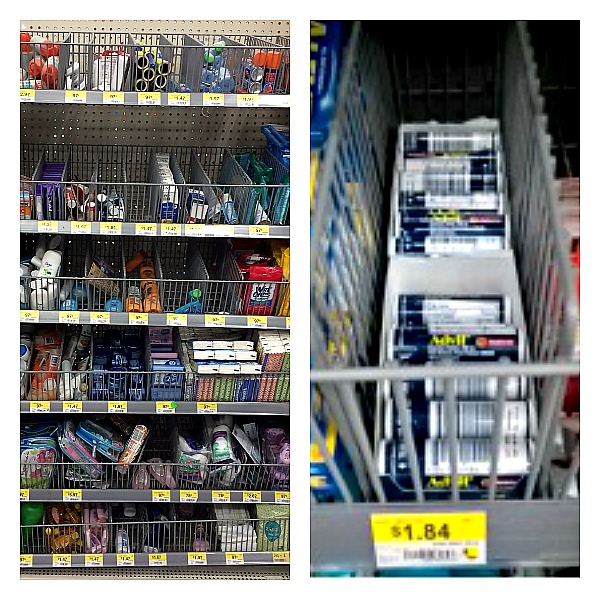 Be sure and check all these other great ideas on how to be healthy for every part of your life. 
Disclosure: This shop has been compensated by Collective Bias, Inc. and its advertiser. All opinions are mine alone. #BeHealthyForEveryPartofLife #CollectiveBias