I lost my dad to cancer 29 years ago this week. One of my favorite memories of my dad was a funny recipe he created on Dr. Seuss' birthday so many years ago. This memory still brings a smile to my face.  On March 2nd of each year, I have had my own private celebration to celebrate not only the life of Theodor "Dr. Seuss" Geisel, but to celebrate a particularly fond memory of my quirky dad.
Now, as I have children of my own, Dr. Seuss' birthday is a special way to connect my kids to a grandfather they never met. And now, we also have the added bonus that schools celebrate Dr. Seuss' birthday as National Read Across America Day with Seussibration week.
Each year for Dr. Seuss' birthday, I create a new snack for our Dr. Seuss party menu.  This year I made Rice Krispie treats to resemble Dr. Seuss' Thing 1 and Thing 2.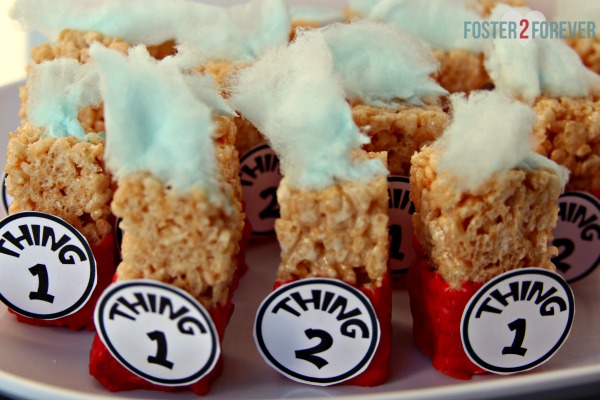 I made the Rice Krispie treats recipe and sliced into thin rectangles.
To make Thing 1 & Thing 2 red pants, I melted red Wilton candy melts and spooned it over the bottom portion of the treat.
For the blue hair, I used blue cotton candy. (Note: the cotton candy disintegrates in room humidity so add the hair right before serving.)
I used these Thing 1 &Thing 2 printables here to make the Thing 1 & Thing 2 name badges.
My family loved these & my brother-in-law even remarked, "the red chocolate makes them even better."  ENJOY!!!