Time-out is the most common way used today to discipline a child. And it may work for most children; however, time-out may not work if you have an insecure child. Here's why!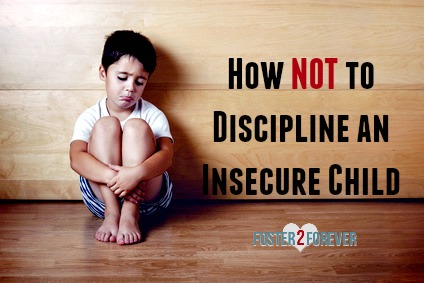 How to NOT Discipline an Insecure Child
Using a time-out for discipline can trigger fear and abandonment issues, making it counterproductive, especially for insecure or at-risk children. If a child is struggling with low self-esteem, a time-out may affirm to the child that they aren't any good.
This is particularly true with foster and adopted children that struggle with attachment because of the lack of early bonding in their lives. Because of a child's early history of neglect and abuse, he may already feel disconnected from the family due to the lack of bonding in his earlier relationships. To these hurt children, time-out can feel like banishment and rejection from the family, which can cause the child's mind to cycle into more insecurity. To a traumatized child, a time-out could feel like a withdrawal of love and equate to another abandonment to the child.
Through a simple time-out, a parent may be sending the message to an at-risk child: "My parents don't want me around." Those feelings of rejection have no outlet in a time-out which can cause turmoil inside the child. Consequently, the child may learn to withdraw from the world during times of stress instead of dealing with those emotions of disappointment.
When a child struggling with feeling insecure and controlling their emotions, that is a time in particular when a child most needs a parent's help to wade through the turmoil.
How to Discipline an Insecure Child
You still have to discipline your child, so what do you do? Remember that there is a difference between discipline and punishment. Try disciplining your child using a time-in instead of time-out.  Using time-in to discipline your child will help your child teaches calmness, self-soothing, and thinking through emotions, plus it creates a bonding time with your child to deepen the parent-child relationship.