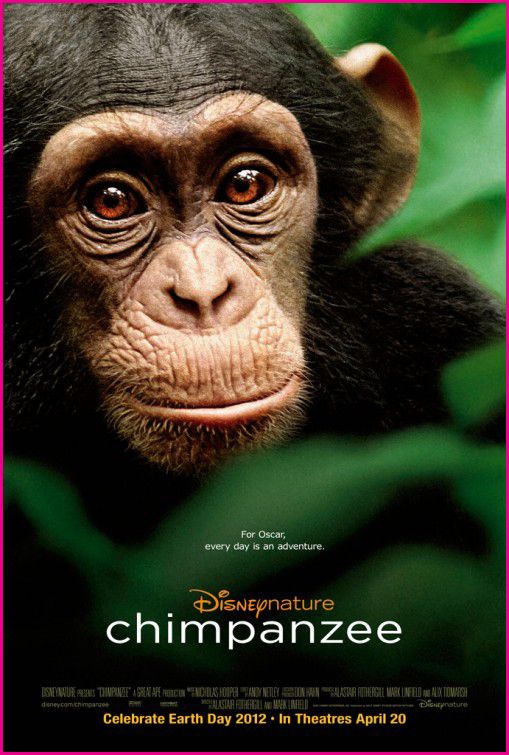 This little guy needs a family. His name is Oscar. When I look into his big, brown, engaging eyes, I can't help but smile.
Isn't he just adorable?
My kids and I just love chimps!  My fascination with primates began when I wrote my college research paper to question whether they could really communicate with humans using sign language.
Tomorrow, on Friday, April 20th, just in time for Earth Day, DisneyNature is bringing a true story of adoption that actually happened in the wild.
Oscar is a baby chimp born to a caring mother with a huge extended family living in the jungles of Africa.
This film explores how when Oscar suddenly loses his mother, an unexpected member of his clan takes care of him.  Oscar is adopted!
This film demonstrates that, even in nature, foster care and adoption happen.  Some opponents may try to demonize adoption and call for its abolition; however, adoption isn't evil – sometimes it's necessary for a little one's survival in the world – and it can become a beautiful, fulfilling journey.
Can you watch this trailer without feeling a fullness in your throat?
I'm loving the Switchfoot song playing in the trailer: "This is home, now I'm finally where I belong…" We all need to belong.
I'm looking forward to experiencing this film with my boys.  Lil Bit is a bit too young to grasp its message just yet; however, I'm looking forward watching this film with 4-year-old Stinkpot.  At just over an hour (78 minutes), I'm hoping he can sit still that long.
How about you? How do you share stories of adoption with your little ones? What films do you recommend?