"MOM! An elephant adopted an alligator! You have to see!" I am amused, walking toward the living room. Then I am amazed. There on the screen is an elephant in a car with an alligator.
We are watching NickJr's new animated show Hey Duggee! The show is about a big dog named Duggee, a troop leader for the Squirrel Club. The Squirrel Club Members are Tag, a rhino, Norrie, a mouse, Roly, a hippo, Betty an octopus, and Happy the alligator, whose parent is indeed an elephant.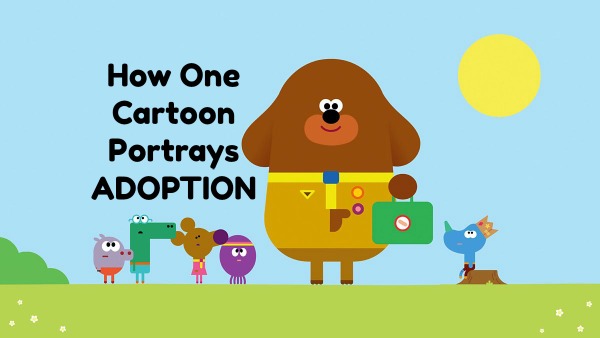 In each episode, the Squirrel Club engages in fun educational activities that help them earn badges. The animation and dialog is simple and easy to follow making it suitable for preschoolers to watch.
The most amazing aspect of this program is that while Happy is adopted, there is no focus on it. Happy's elephant parent is an accepted fact. I'm still not sure if the parent is mom or dad, but it really doesn't matter. Nothing in the dialog states why Happy's family is different. The implication is that the family is just different, that's all.
This understatement is a big loud shout that different families are relevant and part of everyday life. The other very subtle observation is that crocodiles have attacked elephants in the wild. So even though Happy is not a crocodile but an alligator, the nuance of an elephant embracing an alligator into its heart and home nails down the fact that LOVE DOES CONQUER ALL.
In the past, television has portrayed adoption as a problem to be solved, or the adoptee or child needing a home is the center of the plot, and at times portrayed in a negative light. The audience is constantly reminded that adoption is the premise of the story, as well as the unconventionality that goes with it.
Not so with Hey Duggee! All families are welcome, with no questions asked. What amazed me most is that my child instantly recognized that Happy was adopted, without having it pointed out in the dialog. That is no small feat for children's' programming.
This has not gone unnoticed. Hey Duggee! has earned Studio AKA a BAFTA award in 2016 as well as an International Emmy award in 2017. The show is already in its second season and gaining popularity with adopted and traditional families alike.
Hey Duggee! can be seen on NickJr weekdays at 1:30pm EST or on the NickJr website anytime.
Disclosure: This is not a sponsored post. I did not receive any compensation as NickJr doesn't even know about this blog. This is simply a mom excited about a new children's program with an adoption element.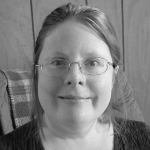 Theresa Davis has been working with children and families for years, wearing different hats, mostly as an early childhood educator and now a teaching assistant. She writes for a local publication "The Parent Pages" as a columnist for the past two years, covering topics surrounding adoption, foster parenting and special needs families. She is also a former foster parent, now an adoptive mom of one daughter.  She enjoys knitting, yoga, trying new recipes, and crafting with her little one.