November is National Adoption Month!! In celebration, I'm presenting an encore presentation of the Adoption HEART Conference!!! The Adoption HEART Conference is a free online event that kicks off on Tuesday, November 1st and runs through November 7th. Free sign up here.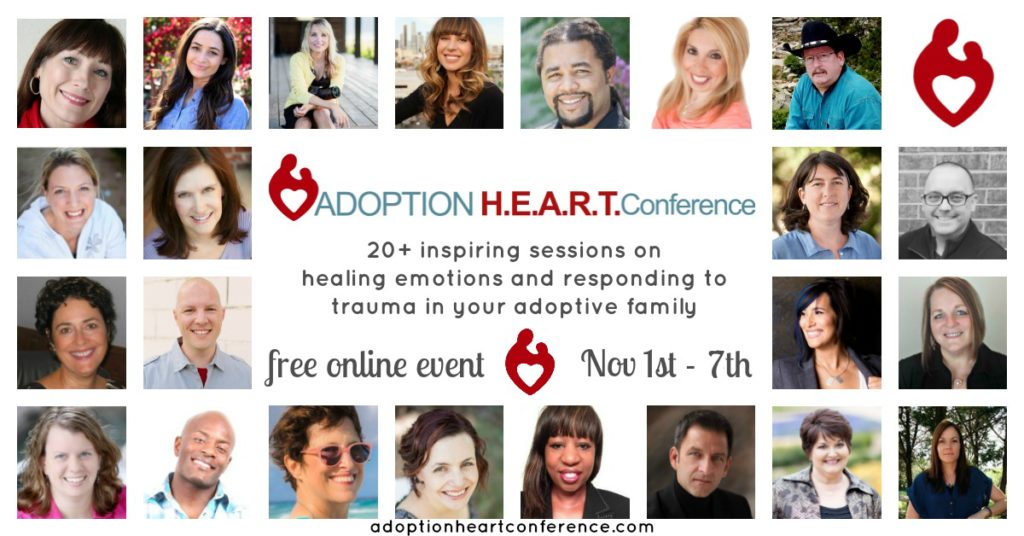 As an adoptive parent, I've struggled with navigating the unique challenges that come with parenting traumatized children. Sure, there are some incredible conferences and trainings available to foster and adoptive parents, but I just can't jump on a plane to attend. And even if I could, my kids do not travel well at all!
To make matters worse, most adoption conferences and trainings don't provide childcare so that means I'd have to find sitters anyway to either stay overnight or with my rambunctious boys during the conference.
That's why I created the Adoption HEART Conference!
To provide adoptive parents (& prospective adoptive parents) a convenient way to get the training and tools they need to effectively parent traumatized kids.
The Adoption HEART Conference is an online event so that means no travel and no childcare, plus you can watch the conference sessions at your convenience. Plus it's free to watch during the conference! – all you have to do is sign up.
You'll get free access to sessions with over 20 adoption experts to give you incredible insight into the mind and heart of our children from hard places.
Check out these incredible sessions:
Replacing Your Child's Fear with Love: Powerful Strategies to Stop Difficult Behavior
Bryan Post
Growing Up White: An Open Discussion with a Transracial Adoptee
Rhonda Roorda
How to Choose Which Adoption is Best for Your Family
Dawn Davenport (of CreatingAFamily.org)
What You Might Not Know About Birthmother Grief & Loss
Ashley Mitchell (birthmother of BigToughGirl.com)
What They Don't Tell You About International Adoption
Sharla Kostelyk (of ChaosAndTheClutter.com)
How to Choose Which Adoption is Best for Your Family
Lori Holden (of LavenderLuz.com)
From Adoptee to Adoptive Parent: Overcoming Your Past to Parent Traumatized Children
Jillian Lauren (New York Times bestselling author)
What Parents MUST Know About Adoptee Identity, Grief & Loss
Sherrie Eldridge (author, adult adoptee)
Seeing Trauma through Your Child's Eyes: Tips from a Former Foster Kid
Chadwick Sapenter (former foster youth)
What Really Happens to Kids Who Age Out of Foster Care & What You Can Do About It
Gianna Dahlia (Executive Director of TogetherWeRise.org)
How Attachment Has More to Do with YOU than Your Child
Marshall Lyles (of the Center for Relational Care)
How to Recognize Prenatal Exposure & Its Complex Effects on Your Adopted Child
Melissa Fredin (of Minnesota Organization on Fetal Alcohol Syndrome)
It's Not Behavior, It's Neurological: How Trauma Imbalances Your Child's Brain
Dr. Rob Melillo (of Brain Balance Centers)
How Compassion Fatigue & Secondary Trauma Can Unknowingly Invade Foster & Adoptive Families
Amy Sugeno (trauma therapist)
How to Integrate Two Parenting Styles & Diffuse Conflicts in Your Marriage
Mike Berry (of ConfessionsOfAnAdoptiveParent.com)
How to Integrate Adoption into Your Home, Life & Work to Make a Difference in the World
Tamara Lackey (photographer, activist, adoptive mom)
How to Help Your Child Overcome Their Past Trauma with a Trust-Based Parenting Intervention
Debra Jones (author, parenting coach, adoptive mom)
How to Use Animals & Pets to Help Regulate Your Traumatized Child
Lindsey Bussey (equine therapist)
How to Develop an Effective Plan to Intentionally Parent Challenging Behaviors in Adopted Children
Stacy Manning (author, parenting coach)
How to Help Your Foster & Adopted Children Rise Up from the Depths of Trauma & Low Self-Esteem
Dr. Sue Cornbluth (therapist, parenting expert)
Tough Decisions When Parenting Reactive Attachment Disorder
John M. Simmons (author, adoptive dad)
Could Your Child's Behavior Actually Be Sensory Processing Disorder?
Marti Smith (occupational therapist)
Creating this Adoption HEART Conference has significantly changed my view of adoption — now I feel that I can see through the lens of my adopted children about the adoptee loss that they WILL eventually experience.
Be sure and go to AdoptionHEARTconference.com to check out all the sessions and claim your free ticket to this life-changing event. Please share with your friends, agencies, and caseworkers!
Also, you can register to win an all-access pass to the Adoption HEART Conference & watch the sessions anytime in the next six months. Plus, you can receive training certificates and many other bonuses. (A $149 value)