Parenting is so difficult, but being a foster parent has its own unique challenges. (see my video) Children from hard places come and go from your home. Each foster care placement situation is different, and whether a foster child reunites with birthparents or becomes available for adoption, foster parents continually need tools to parent children in their care.
Use The Foster Parenting Toolbox!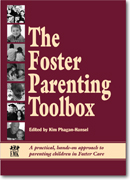 More than 100 contributors have created this useful resource specifically for foster parents and the professionals who work with them: caseworkers, social workers, judges, CASAs, GALs and others who are a part of the foster child's team. This book consists of 384 short articles and stories filled with lessons learned and inspiration, plus many pages of resources at the end.
Chapters include
• Why Foster?
• Perspectives
• Transitions
• Teamwork
• Birth Family Connections
• Loss, Grief, and Anger
• Attachment and Trust
• Trauma and Abuse
• Family Impact
• Discipline
• School Tools
• Parenting Teens
• Nurturing Identity
• Allegations
• Respite and Support
• Reunification, Adoption, and Beyond
• Resources, Recommended Readings and Index
One of the best features of this book is the Continuing Education Unit (CEU) quizzes at the back of the book. Each quiz covers a chapter in the book (16 quizzes) and, if your agency allows, you can receive credit for training. Sweet!!! Here are some other options for foster parent training.
This week, we are giving away a $25 Amazon gift card so that you can get your very own copy of The Foster Parenting Toolbox. All you have to do is enter via the Rafflecopter below. Good luck!!!