Last summer, I opened up and shared about being sexually molested as a preschooler.  I honestly do not know how my parents could have prevented it, which makes the incident even scarier for me as a parent.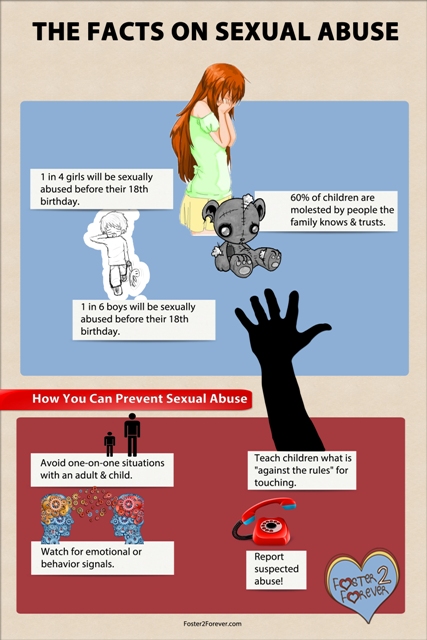 The Scary Statistics of Sexual Abuse:
Experts estimate that 1 in 4 girls and 1 in 6 boys are sexually abused before their 18th birthdays.
30-40% of children are abused by family members.
As many as 60% are abused by people the family trusts- abusers frequently try to form a trusting relationship with parents.
Nearly 40% are abused by older or larger children.
(from Darkness to Light)
Prevention of Child Sexual Abuse
Minimize Opportunity for Sexual Abuse

Understand that abusers often become friendly with potential victims and their families, enjoying family activities, earning trust, and gaining time alone with children.
Avoid one-adult/one-child situations & instead, choose group situations, whenever possible.
Think carefully about the safety of situations in which older youth have access to younger children. Make sure that multiple adults are present who can supervise.
Set an example by personally avoiding one-adult/one-child situations with children other than your own.
Talk About It

Teach your children about their bodies, about what abuse is, and, when age-appropriate, about sex. Teach them words that help them discuss sex comfortably with you.
Model caring for your own body, and teach children how to care for theirs.
Teach children that it is "against the rules" for adults to act in a sexual way with them and use examples. Teach them what parts of their bodies others should not touch.
These acclaimed books (Amazon affiliate link) could be used to educate your children about privacy of their bodies:

 Stay Alert
Physical signs of sexual abuse are not common, although redness, rashes or swelling in the genital area, urinary tract infections, or other such symptoms should be carefully investigated. Also, physical problems associated with anxiety, such as chronic stomach pain or headaches, may occur.
Emotional or behavioral signals are the most common sign of sexual abuse. These can run from "too perfect" behavior, to withdrawal and depression, to unexplained anger and rebellion.
Sexual behavior and language that are not age-appropriate can be a red flag.
Be aware that in some children there are no signs whatsoever.
How an Abuser Works
The abuser shames the child, points out that the child let it happen, or tells the child that his or her parents will be angry.
The abuser is often manipulative and may try to confuse the child about what is right and wrong.
The abuser sometimes threatens the child or a family member.
How You Should Act

Believe the child and make sure the child knows it.
Thank the child for telling you and praise the child's courage.
Encourage the child to talk but don't ask leading questions about details.  If you must ask questions to keep the child talking, ask open-ended ones like "what happened next?"
Seek the help of a professional who is trained to interview the child about sexual abuse. Professional guidance could be critical to the child's healing and to any criminal prosecution.
Act on Suspicions
By acting on suspicions of child sexual abuse, you will save not only one child, but perhaps countless others. Many of those who sexually abuse children have multiple victims. You may be faced with a situation where you suspect abuse but don't have any proof. Suspicions are scary, but trust your instincts. Have the courage to report the suspected abuse.
How do you educate your children against sexual abuse?
CHECK OUT THESE GREAT BOOKS ON FOSTER CARE
{ 0 comments }