I'm so excited!!! This weekend, the Adoption HEART Conference finally takes off beginning this Sunday, May 1st through Friday, May 6th.
With over 20 video sessions with experts of various experiences and views on adoption, the Adoption HEART Conference is an invaluable resource for adoptive parents or those planning to adopt. These interviews have changed me.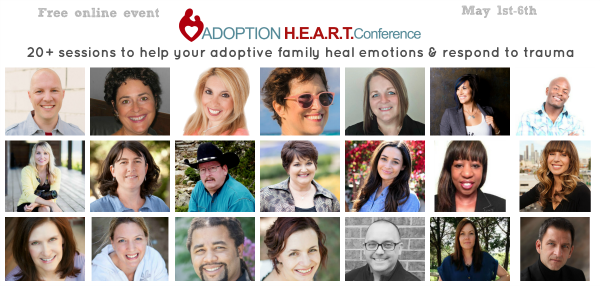 Because it's all online, you can watch the Adoption HEART Conference from the comfort of your home – and – best of all – you don't have to find childcare!!!
Check out this list of the amazing sessions:
SUNDAY, MAY 1ST
Kickoff – Host Penelope Webster:  How the Adoption HEART Conference Changed Me
Bryan Post – Replacing Your Child's Fear with Love: Powerful Strategies to Stop Difficult Behaviors
Rhonda Roorda – Growing Up White: An Open Discussion with a Transracial Adoptee
MONDAY, MAY 2ND
Dawn Davenport – How to Choose Which Adoption Options is Best for Your Family
Ashley Mitchell – What You Might Not Know About Birthmother Grief & Loss
Sharla Kostelyk – What They Don't Tell You about International Adoption
Lori Holden – How to Have Openness in Adoption (Even in Foster Care & International Adoptions)
TUESDAY, MAY 3RD
Jillian Lauren – From Adoptee to Adoptive Parent: One Mom's Journey to Overcome Her Past to Parent Her Traumatized Children
Sherrie Eldridge – What Parents MUST Know About Adoptee Identity, Grief & Loss
Chadwick Sapenter – Seeing Trauma through Your Child's Eyes: Tips from a Former Foster Kid
Gianna Dahlia – What Really Happens to Kids Who Age Out of Foster Care & What You Can Do About It
WEDNESDAY, MAY 4TH
Marshall Lyles – How Attachment Has More to Do with YOU than Your Child
Melissa Fredin – How to Recognize Prenatal Exposure & Its Complex Effects on Your Adopted Child Today & Tomorrow
Dr. Rob Melillo – Brain Balance: How Trauma Changes Your Child's Brain & Behavior
Marti Smith – Could Your Child's Behavior Actually Be Sensory Processing Disorder? How Trauma Affects the Senses & Behavior
John M. Simmons – Tough Decisions when Parenting Reactive Attachment Disorder
THURSDAY, MAY 5TH
Amy Sugeno – It Could Happen to You: How Compassion Fatigue & Secondary Trauma Can Overtake Foster and Adoptive Families
Mike Berry – How to Integrate Two Parenting Styles & Diffuse Conflicts in Your Marriage
Tamara Lackey – How to Integrate Adoption into Your Home, Life & Work
Debra Jones – How to Help Your Child Overcome Their Past Trauma with a Trust-Based Parenting Intervention
FRIDAY, MAY 6TH
Lindsey Bussey – How to Use Animals & Pets to Help Regulate Your Traumatized Child
Dr. Sue Cornbluth – How to Help Your Foster & Adopted Children Rise Up from the Depths of Trauma & Low Self-Esteem
Stacy Manning – How to Develop an Effective Plan to Intentionally Parent Challenging Behaviors in Adopted Children
LIVE Closing Panel – Host, Penelope Webster hosts a Live Panel Discussion
This project has been a labor of love for you, the adoptive parent, and after months of planning, and hours of web development, and numerous interviews with various adoption experts, the Adoption HEART Conference is ready to bless you.
You don't want to miss this! Get your free ticket now! See you Sunday!