Most children at some point struggle with controlling their emotions. My son who suffered intense hunger as an infant, still struggles with overwhelming emotions when he is hungry. Through the years, I have been trying to help him understand how his brain reacts when he gets hungry, and help him "use his words."
So naturally, I was excited about Inside Out — the new Disney/Pixar movie about the emotions (Joy, Sadness, Anger, Disgust and Fear) that live in the brain of an 11-year-old girl, Riley.
Inside Out Movie Review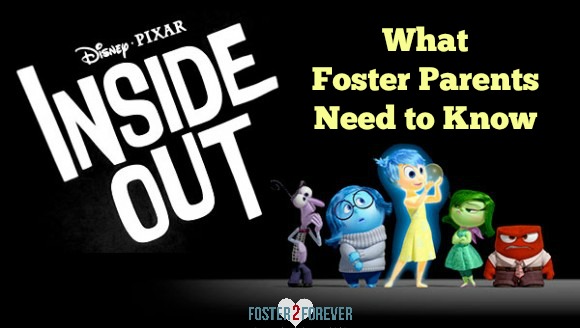 Joy is the main emotion throughout the Riley's life; however, with the disruption of her family moving across the country from everything she knows, the other emotions tend to take over for Joy. Then, when Joy and Sadness get lost, it's up to Anger, Disgust and Fear to lead the brain which ultimately begins to change Riley's personality.
I liked how Inside Out illustrated, through storytelling, how the human brain can work — the movie showed how, when a negative emotion is attached to a memory, that it can affect a child's personality. In short, emotions can hide a child's true personality.
The movie focuses on keeping core memories happy, which made me think about our traumatized kids. What if those early memories are comprised of Fear? The fear of hunger in my child moves his brain into Fight or Flight mode – so watch out! Fighting (using Anger) is how my child's brain has been wired for survival.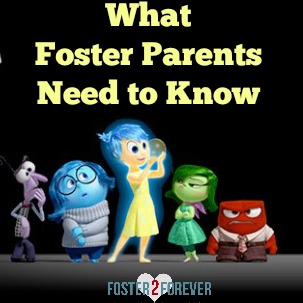 For instance, a foster child that has suffered abuse and neglect, are suddenly moved into the home of strangers leaving everything they know behind. It's easy to see how Joy, if they ever knew it, can get lost in their lives too. Given their circumstances, Fear and Anger can take over, just as it did for Riley.
In the movie, the parents keep asking Riley: "where's my happy kid?" Although well-meaning, the question seemed to squash Riley's ability to share her true emotions. That's a lesson for parents: emotions are normal, even Sadness.
It's our job as foster parents to help our kids navigate through their emotions, find their Joy, and appropriately deal with their Sadness, Fear and Anger.
What I specifically liked about the movie is that it demonstrates how each emotion does have a purpose in a child's life. (For instance, Fear and Disgust can protect a child from harm) But more importantly, that sometimes even grief and Sadness do serve a purpose.
Because of the complexity of brain science, I don't believe that my son really understood all the nuisances of the how the brain works from the movie.  Inside Out has a pretty deep message that younger children probably won't understand, but at the very least, it gives a language for children to use when talking about their emotions.
I LOVED IT!
Have you seen the movie, Inside Out? What are your thoughts?