This shop has been compensated by Collective Bias, Inc. and its advertiser. All opinions are mine alone. #InsideOutEmotions #CollectiveBias
My kids and I loved the Disney/Pixar movie, Inside Out! (Have you read my Inside Out movie review for foster/adoptive parents?)
What makes the Inside Out movie a great tool in parenting is that it gives kids a language to talk about the emotions they are feeling. Getting your children to talk about their emotions can be quite frustrating as a parent.
And now that Wal-Mart has the Inside Out plush characters, a parent can use them as puppets to get children talking about their emotions.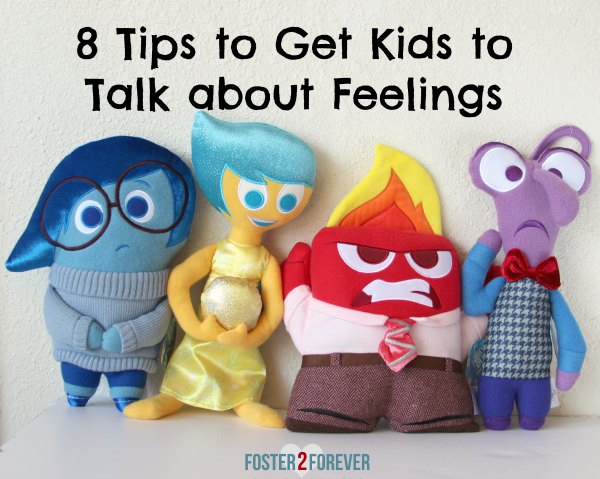 How can puppets help children talk about their emotions?
Puppets create a playful environment. Play is safety in a child's eyes. It's difficult for a child to be guarded in the midst of play. Using puppets to communicate complicated feelings gives a child a safe way to communicate what's going on with them. During play, children are more willing to express their feelings.
To a child, talking with a puppet can feel safer than speaking with an adult, which can be quite scary.
Tips on using puppets to communicate emotions:
Have the child choose an Inside Out plush toy of an emotion. (Joy, Anger, Sadness, Fear, Disgust) The goal is to have the child become the character and talk as the emotion.
Begin with helping the child tell a story as the emotion. — For example, "My name is ANGER and I get really mad when you don't give me candy for supper." (Remember that the emotion is speaking to you and not the child)
Show empathy. "I understand why you would be angry."
Use open-ended questions in your puppet show to allow the child to lead the discussion.

What happened when _____?
Why do you feel _____ (the mood of the puppet he has picked)?
What did you do when _____?
Did that make you feel better?
How do you think that made someone else feel?
What else could you do?
How would that make you feel?

Point out that it is okay to have emotions, even if it feels uncomfortable.
Help your child realize that emotions can affect what he does, BUT that he has choices about how to act when having that emotion.
Explain that if he doesn't like what he is feeling, he can do something — like talking to someone about how he feels.
At the end of each story, discuss with your child ways to cope with each feeling. "When you're feeling mad, you can take three deeps breaths." "When feel you sad, it's okay to cry."
Also, here's a song about emotions you can teach your children ways to control emotions.
If you're JOYful and you know it – Laugh out loud
If you're ANGRY and you know it – Breathe in deep
If you're SAD and you know it – You can cry
If you're SCARED and you know it – Hug your dad
You can find the Inside Out plush characters at WalMart for only $8.88 each.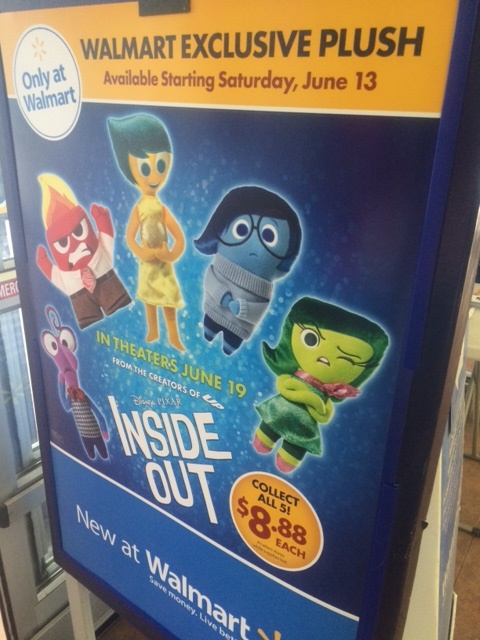 Just go to the Toys section of the store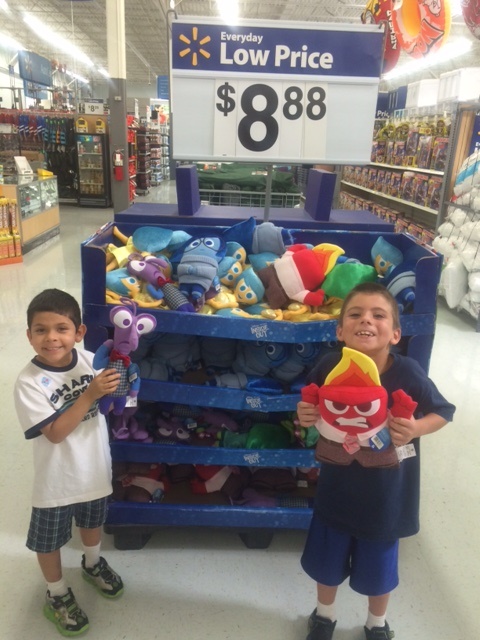 But, remember, the emotion of Sadness can show up anywhere unexpectedly!!! Even in the toy aisle!