Hey ya'll! I'm Deonna and I write Child at Heart: A faith-based DIY, gift ideas, and family blog. I'm a stay-at-home mom, police wife, and mommy to this little cutie 🙂
Had to share a picture from my Instagram with my new Foster 2 Forever friends 🙂 I was asked by Penelope to share an easy gift idea for Mother's Day with you. I was one of Penelope's roomies at Blog Elevated and we had SO much fun!
I LOVE making gifts for Mother's Day and when I think of my mom, I think of how much she LOVES cooking…I didn't get that gene 🙂 I found this great little measuring cup the other day and I decided to turn it into a fun kitchen candle. I am sharing a simple way to make a soy candle with essential oils in your microwave. It's super easy and they turn out really pretty. I also made some simple gift tags that say "I Love You Beyond Measure" to add to your candle gift. All you have to do is print, cut, and you're done!
Okay let's make our candles:
You can choose any little bowl, cup, or mug to make this project if you don't love the measuring cup idea. Just choose your bowl or cup and clean it out and dry it really well. I did the tutorial with this fun little bowl I found.
1. Place your wick in the center of the bowl or cup. I used a glue dot to hold it in place. Once, the hot wax hits the glue dot it will move but it does help get you ready to pour.
2. Measure your soy wax flakes by pouring them into your cup twice. This should be enough to fill the bowl once it's melted. I melted them in a microwave-safe bowl in the microwave for about 5 minutes. Stir to make sure it is thoroughly melted.
3. Add your essential oils of choice. I did about 20 or 30 drops and my candles don't smell very strong so if you want a stronger scent, use more. Stir for about 2 minutes and then slowly pour into your bowl or cup.
4. Place a small piece of wax paper over the candle with a hole in it for the wick. This will keep your wick centered while the wax hardens. Allow several hours to cool.
Here are some of the other finished candles! Besides the bowl and measuring cup, I used a tiny tea cup and a coffee mug that I wrote on with a gold Sharpie. The printable gift tags for the mug and tea cup are available on my blog as well. Just click on them, print, cut, and you're done!
FREE Printable Gift Tags: Click on the link, print, cut, and tie it on your gift with some cute ribbon or jute. I made a colorful option and also a black and white option. You could hit the black and white tags with some watercolors for a fun twist!
"I Love You Beyond Measure" Gift Tag Printables in Color
"I Love You Beyond Measure" Gift Tag Printables in Black and White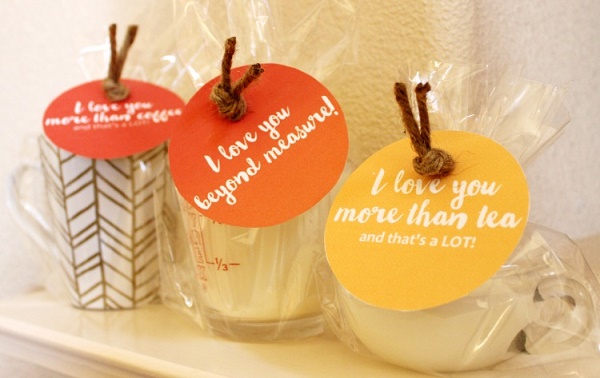 Please check out some of my other DIY projects and family posts and thank you SO much for letting me come visit 🙂
Which candle is your favorite? What other things could you use from your kitchen for a candle gift?