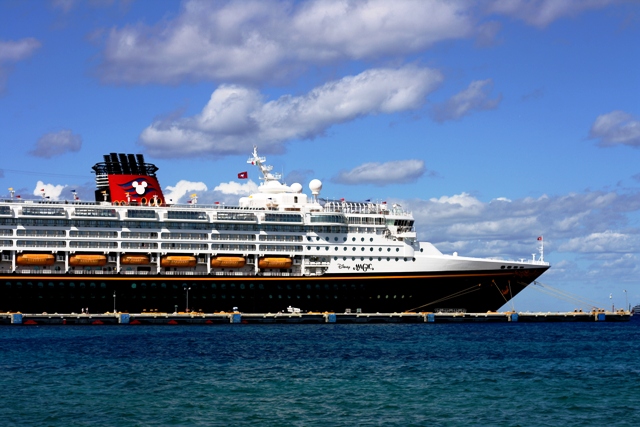 We needed a vacation! And then something magical happened! Disney Cruise Lines announced cruises out of Galveston! We quickly booked a week-long Caribbean cruise with Mickey, Minnie, Donald and the rest of the Disney gang.  I highly recommend Disney Cruise Lines! It was the best!!!
Here are a list of tips we learned when cruising with our children:
Buy Travel Insurance
You never know when your child may get sick, break an arm, etc.
Upgrade Your Room at Check-In
You can get steep discounts on available rooms. We could have upgraded from an interior room to a larger room with a port hole for $200; however, being the budget travelers that we are, we chose to spend that money elsewhere, since we spent so little time in our room.
Cash Is Not Accepted at Shops On-Board
We made the mistake of bringing cash to spend on the ship for souvenirs; however, the ship's gift shop only took our room key or credit cards for purchases.
Bring a Carry-On Bag When You Board
Think of what activities you or your kids might want to do the afternoon of boarding.  If your kids are waterbugs, like mine, bring swimsuits and pool paraphernalia in a carry-on so you don't have to listen to your kids whine all afternoon because they want to get in the pool.
Decorate Your Stateroom Door
Since stateroom doors are made of metal, use magnets to decorate the door to your stateroom so your kids can find your room easily among the sea of doors that are identical.
Have a Plan for Sea Sickness
I cannot even read a map in the car without feeling woozy. Although, I did get "the patch" for the cruise, if you would like a more natural (and less expensive) alternative, consider taking Ginger Root capsules.  I used it considerably when my former job had me flying in a helicopter with a former Vietnam chopper pilot.
Enroll Your Children in the Ship's Kids Club
My kids begged to spend time in the Oceaneers Club for kids. In fact, one evening, our Kindergartner didn't asked to be picked up until nearly midnight!!
Plan for Naptime
Our 3-year-old needs an afternoon nap!  But the last thing we wanted to do was spend two hours in our interior cabin watching our child sleep.  We had an ingenious idea and took the kids to an afternoon movie at the ship's on-board theater.  In the dark, cool theater, our exhausted preschooler fell asleep rather quickly, regardless of the theater's surround sound system.  We enjoyed watching DisneyNature's Chimpanzee. (you must see this movie about adoption in the wild)