For those who follow on Facebook or Twitter, we have a new member of our family!!!
Welcome, Dragon!!! (see photo below)
Last night, my sister's blood pressure was out the roof and little Dragon just wasn't strong enough to enter the world the old-fashioned way. So he came out in the fashion of Alien – ouch! Right before midnight – a month early – all 4 pounds, 11 ounces of him. A clone of my sister with dark hair. Rushed into NICU. Dragon is still in NICU this morning… Prayers are appreciated!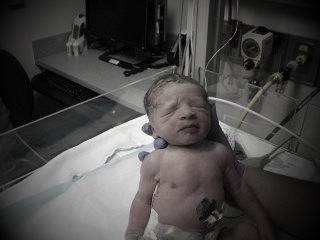 With a new baby, will come lots of photos. And most of us now share our photos online – Facebook & Instagram. But all those digital photos are sometimes difficult to show others, especially grandparents. What I do is create photobooks!
With me being a working mom of two preschool boys, it's extremely difficult to find the time to compile a photobook.
Blurb has a creative publishing platform that allows you to create beautiful photobooks using your photos from Facebook and/or Instagram – within minutes.
Once you've made your book you can share it with others on your Facebook, Twitter or website & blog. Easy to make! And easy to share!
Blurb is a creative publishing platform that allows anyone to create, share and sell a professional quality book. Make a portfolio of your client work, an archive of your blog, a cook book of your favorite recipes, a photo book of your family pictures or a quick book of your Instagram photos – the possibilities are limitless. It's easy and quick to do – with a variety of software options you could complete your dream book in next to no time. This is a sponsored post written by me on behalf of Blurb. The opinions and text are all mine.
 Have you ever made a photobook exclusively from your Facebook or Instagram photos?