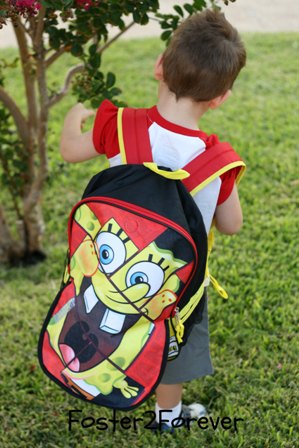 It's time for BACK TO SCHOOL!!!  And I am anxious – more than a child, I believe. You see, our strong-willed RADish begins Kindergarten soon.
Back to School time is probably not a big deal to most moms – except that sadness to see your little baby walking into big school for the first time.
But this year, for me, Back to School time brings on anxiety and worry about how my little boy (with emotional needs that are tough to understand) is going to handle the pressures of school.
He was kicked out of three day cares for behavior issues. (Yes – Three!!!)  Last year, when he was kicked out of the third day care, we enrolled him in half-day Pre-K while FosterDad and I took turns using FMLA to care for him.
School for only half the day was a good thing for him. He still had a few bad days, but for the most part, a good transition for him. When asked how was school that day, he would reply:
"No time out. No trip to the principal's office. It was a Good Day!"
However, our child is enrolled in full-day Kindergarten for this upcoming school year.
Lately, especially after having 3 foster children in our home for a few weeks, he has been regressing. Last weekend, for FosterDad's birthday, we attempted overnight respite. He raged for HOURS after I left him with the caregiver. (He won't be going back there!)
Is our child ready for BACK TO SCHOOL?
I don't know! But our backup plan is that if our child isn't ready for full-day Kindergarten — he can just repeat Pre-K!
Pros:
He just turned 5 so a late birthday won't matter much – He is currently at the 5th percentile for height & hopefully wouldn't be the smallest in the class
He knows the teachers and the teachers know him
FosterDad is now retired so he can care for our son half the day
Cons:
He is bright so repeating will bore him –
With a late birthday for a small boy obsessed with sports, we want hold him back one year but hoping it would be Kindergarten where he would have a stronger curriculum.
We are praying that our child adjusts well this school year.
What are your fears or anxieties about Back to School?
UPDATE: My son had a fabulous year with only one incidence of misbehavior!!!