This week has been quite stressful on our family. Last Sunday, we had an emergency room scare with our 2-year-old, Lil Bit. Then Wednesday, FosterDad had surgery on his jaw.  Not only has FosterDad been out of sorts, but Stinkpot has been more than his usual handful!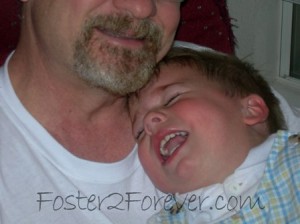 His play therapist noticed his elevated behavior Friday.
Then Sunday, the Children's Minister took me aside to discuss Stinkpot's disruptive behavior.  I really didn't know what to say.
And I really don't know what more to do…
Please pray for Stinkpot and our family!
Stinkpot's sense of security;
FosterDad's healing and recovery;
My sibling in a pending divorce involving an unborn child;
LilBit's baby brother recovering from surgery;
Aurora shooting victims and their families.
Big hugs to each of you!