As an advocate for foster care and adoption, I wish I could say that we began this journey out of the goodness of our hearts, that we felt compassion for the children who could not be with their original family, and that we desperately wanted to provide a home to those in need.  I wish we could say that we have always wanted to be foster and adoptive parents, but that is not our story.  We are infertile.  It was only after struggling through an uncorrectable, secondary infertility diagnosis that we even considered foster care and even that was only in hopes of adopting.  Yes we loved children and sure we thought it was important that someone take care of them, but we had never stopped to think that that someone might be us.
Foster-to-adopt is one of the many family building options thrown at infertile couples.  We hear things like "why don't you just adopt" (as if it were that easy) or "there are children out there who will be lucky to have you as parents".  Most infertile, foster/adopt parents have been lucky enough to hear the infamous "adopt and you'll get pregnant" line.  These things are said by well-meaning individuals who are just trying to be supportive, but the truth of the matter is that infertility is not fixed by adoption.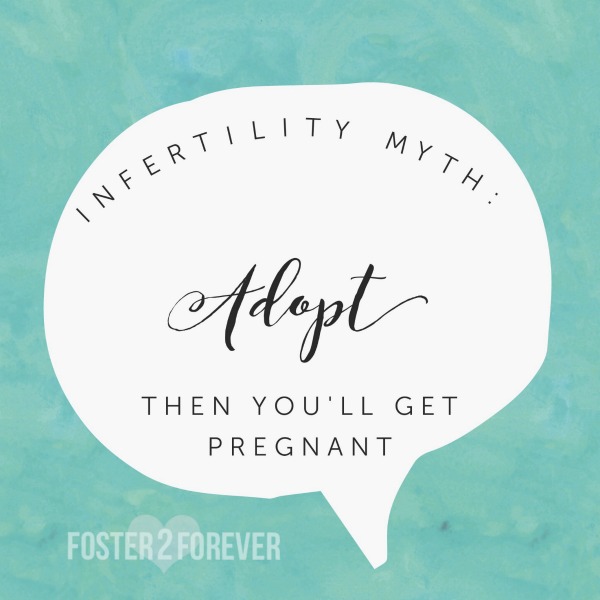 I may be isolating both the infertility and the adoption community with this one, but it's true – adoption does not cure infertility.  Adoption and/or foster care may very well be the best option for you.  My husband and I believe strongly that more people could and should foster/adopt and we can attest to the unbelievable joy we've received from traveling this road.  I will continue to encourage people, infertile or not, to consider their role in foster care because there are children out there who need good homes and most of us could provide that.  You can make a difference.  There are children out there without a home, without parents.  You should strongly consider it.
Your infertility won't go away.
We've known about our fertility challenges for 5 years and have been foster parents for 2.  I don't think about infertility often – I no longer think about ovulation or calculate potential due dates on a regular basis.  Frankly, with 4 preschoolers I don't have time to worry about it.  I am a grateful parent now.  I have had the wonderful opportunity to parent 11 children – I have had sons and daughters in several different combinations with different personalities.  My biological son now has a forever sister – one who won't go away.  I love them all so much.  But I still desire to be pregnant again.  I still desire to have more biological children.  Even with 4 kiddos I still wonder what it would be like to add another one to the mix and I wish I could just make the decision to get pregnant, like so many others do easily.  When I go to a baby shower or hear another announcement it still stings a little.  The pain has faded and I'm distracted by caring for my family, but I'm still infertile.  People need to know that.  We can't expect people struggling with infertility to adopt or become foster parents or even conceive through treatment to just move on and never think about infertility and the scars it causes.  This week is National Infertility Awareness Week – consider reaching out to someone you know who has gone through infertility and acknowledge their journey, even if you think they've come to terms with their situation.  It's good to know you're not ignored.
I wouldn't trade our experience as foster/adopt parents for fertility – ever.  
Learn the facts about infertility.
What's your hesitation to opening your home to foster children? Join this great conversation on Facebook!
Marie (a.k.a Mie) is primary blogger at LettingGoOfMie where she writes about her journey through life as a wife, mama, foster mama, employee in corporate America, and Ph.D. student. She's given birth to a boy, adopted a girl, and along with her husband has fostered 9 other children in 2 years. Life has taught her that it can be more than ever imagined, if she'd only learn to let go of herself and trust her Creator…