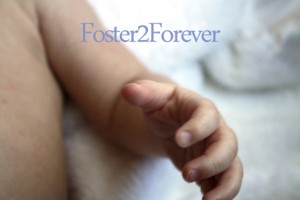 Two days before we finally adopted our Lil Bit, we had a very surprising call from our caseworker. Lil Bit had a newborn brother!
We struggled with the difficult decision of adding a newborn to our family so quickly.  Our JD was struggling with adjusting to all day preschool, having major meltdowns every week causing us to resort to medications.
How would adding a newborn to our family affect JD?
We finally made the very difficult decision that we needed to focus on helping our JD with his adjustment issues. Adding a newborn while JD is struggling so much would not help with his issues.  The huge change of adding a newborn to our family could even cause JD to regress tremendously.
We felt AWFUL for finally telling our caseworker "no".  UNTIL WE WERE TOLD….
"THANK YOU, JESUS!"
The words spoken by the foster/adoptive parents where Baby Brother was placed! They are rejoicing for the opportunity to parent this baby.  Bonus: They live nearby and are open to sibling visits!
We are now at peace.  There was a plan all along…
"For I know the plans I have for you," declares the LORD, "plans to prosper you and not to harm you, plans to give you hope and a future." ~Jeremiah 29:11
Join our Facebook page for more up-to-date information!!!