I love Halloween! I love dressing up with the kids and going trick-or-treating, even though begging our neighbors for candy isn't the best lesson for our kids!  On this spooky evening of goblins and ghouls, our normally, quiet, sleepy subdivision morphs into a HUGE Mardi Gras-like carnival.  Pumpkins, skeletons, cobwebs, and even bounce houses line our streets.  Trick-or-treaters even parade through our subdivision on hay rides! Cars have to dodge families walking through the streets going from house to house. We believe our entire city shows up in our neighborhood on Halloween night!
So when Costume Discounters invited me to review their kids Halloween costumes, I was thrilled! Given our Halloween costume theme for this year, I knew Lil Bit's Robin costume would be difficult to find and Costume Discounters had it in stock!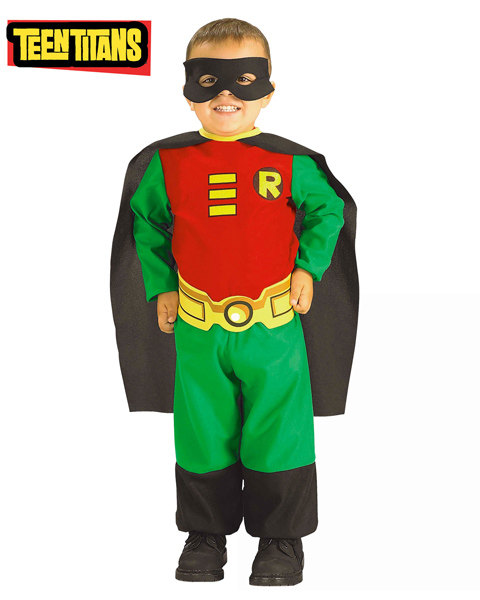 My first concern was size. With the costume sized as 2T-4T, I was concerned it would be too large for our 2-year-old.  Fortunately, we had Stinkpot's costume from last year in that size, and found that it will work well for our Lil Bit that is not too little now.
When I first saw the price of $19.97, I was astounded that the price for a child's costume could be that much. I remember as a kid in the early 1970s when $5 was an expensive costume.  However, when I took a trip to Target and the local party store, I saw that the prices at Costume Discounters are competitive.
The costume arrived within a few days of my order.
The Robin costume is officially licensed by DC Comics. The fabric is a thin polyester which will work well for our warm Texas Halloweens. The costume comes with a black mask and detachable cape.
I will be ordering Stinkpot's Batman costume from Costume Discounters along with my Catwoman accessories. The jury is still out on whether FosterDad will join us trick-or-treating as the Joker.
PBS CHILDREN'S SHOW DINOSAUR TRAIN :
Did you realize that in the PBS show Dinosaur Train, that young T-Rex, Buddy, is adopted by the Pteranodon family? A preschool show about adoption? The show's main theme isn't adoption, but Buddy only refers to Mrs. Pteranodon as MOM! A great lesson in that a family doesn't have to all look alike.
Check out this video!


The next lines in the theme song are:
But dear old Mrs. Pteranodon said:

"Oh, this is your family, and I'm your mom,
you may be different, but we're all creatures,
all dinosaurs have different features…"
Our boys enjoy watching Dinosaur Train and we're excited about –>
DIY HOMEMADE DINOSAUR HALLOWEEN COSTUME PATTERN!

Dinosaur Train Costume – Buddy  

Here is a do-it-yourself costume for Buddy, kids' favorite T-Rex!  Jim Henson's Creature Shop have created this Buddy costume that can be made at home!  This colorful Halloween costume can be made for toddlers ages 3-4, and children between the ages of 4-6.  There is also a No-Sew option!