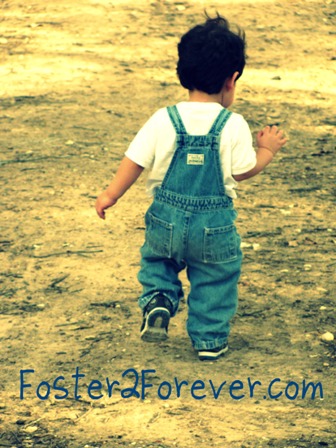 Our foster child, Lil Bit, turned 2 years old last week!  He has grown so much from that 3-month-old infant brought to us nearly 2 years ago. However, he still seems to be a bit behind other toddlers his age.
Last weekend, we attended a birthday party for his class at day care. All the children in his class have birthdays within a month.  As I was watching the other children at the party, I realized just how far behind the others he actually is.
Have a much larger vocabulary,
Talking in short sentences, and
Are in the advanced stages of potty-training.
Also, during the party, he would not let me put him down. (my back is killing me this week from carrying around the 25-pound little tike for 3 hours)
I realize that each child is an individual and develops an their own individual rate.  However, it saddens me for him.
Will he struggle to keep up his entire life or will he eventually catch up?
I realize that God has a perfect plan for our Lil Bit, but I do struggle during the mean time…
For I know the plans I have for you," declares the LORD, "plans to prosper you and not to harm you, plans to give you hope and a future." ~Jeremiah 29:11