On March 4, 2008 at around 3pm, I received a call from the State for an 8-month-old baby boy that needed a foster home. "Foster only", she repeated twice. "Sure!" was my quick response.
If you recall, that was presidential primary election day. My husband & I were planning to attend our precinct convention that evening & were excited about the possibility of attending the Texas Republican convention again, this time in a presidential election year.
However, this call from the State changed our focus from that night forward.
A State investigator from an adjacent county arrived at our home at 6:45 that Tuesday evening carrying in her arms the cutest baby boy. His bright eyes lit up as he smiled at us for the first time. His bottom 2 teeth gleaming. He was wearing an olive corduroy jacket over his navy onesie with the cutest navy & white striped pants. He was wearing navy tennis shoes! So adorable!

I can only rely on my memory as I didn't have the foresight to grab my camera.
(A mistake I haven't made again!)
As the State investigator began telling us the story on this baby, we were thinking "how can anybody neglect a baby that way?" He came with next to nothing & had been kept in his car seat & dirty diapers. What a horrible diaper rash he had! (This is one reason we are having such a difficult time potty-training him now!) He was 8 months old & couldn't sit up or even roll over! He was also very sick. (Look at those poor little sick eyes!)
That first night was TORTURE! He was so congested that he could only sleep 15 minutes at a time – ALL NIGHT LONG! It was the most exhausting night of my life!
The next morning I drove 1-1/2 to pick up my mother-in-law to help me. I had no idea how to care for an infant! (When pregnant, you have nearly 8-9 months to prepare.) I was an instant Mommy!
For the next 2 weeks, we had DAILY trips to Walmart to pick up some type of baby paraphernalia that we needed. I was absolutely, totally FRAZZLED for at least 6 weeks solid – overwhelmed by the incredible responsibility of instant motherhood!
As time went on, it became more apparent that this baby wouldn't be going back to his parents. He did have a full brother 2 years older that was living with his grandparents. The baby would have been sent to live with his grandparents, but they were already raising SIX of their other grandchildren!
Once the parental rights were terminated, the grandparents realized that we could provide more for the baby than they could & decided to allow us to adopt him.
What a handsome little man he has become!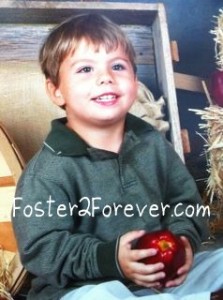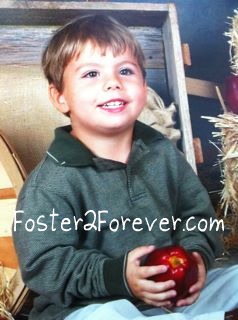 Have a great weekend!